From InformationLiberation.com…
CDC Director Rochelle Walensky admitted during a press briefing last week that her claim that over 99% of covid patients dying in hospitals were unvaccinated was a load of crap.
The claim, which was also echoed by Anthony Fauci, Surgeon General Vivek Murthy and other top officials, was shown to be a lie by the CDC's own data released by the Washington Post on July 29. The CDC's data showed the number of covid patient in-hospital deaths in May were 15% among the vaccinated, not 0.5% as they all claimed — which is 30x higher than they stated.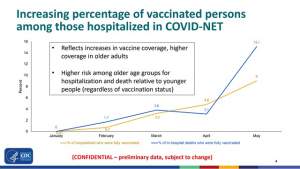 The CDC and White House officials didn't tell the public that because they were in overdrive trying to scare everyone into taking Big Pharma's experimental mRNA "vaccines" despite their rapidly waning protection.