(Hot Air) An interesting report from Catherine Herridge and Graham Kates at CBS News though this seems to be part of a pre-existing pattern we already knew about.
If you've been following this story for a while then you already know the name Tony Bobulinski. He's a former business partner of Hunter Biden who came forward in October 2020 to confirm the authenticity of the emails found on Hunter's laptop and to describe some of Hunter's business dealings in detail. Bobulinski was not just a partner in the business, he was actually a recipient of some of the emails in question including arguably the most infamous one of all.

Other emails involving Bobulinski seemed to indicate that getting Joe Biden involved was part of the plan.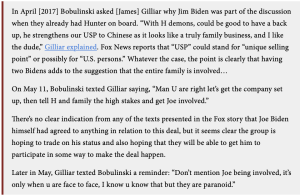 Today, CBS reports that despite Bobulinski's close connections to Hunter, investigators never spoke to him.