Watch the video here
From ReclaimTheNet.org…
Facebook and its subsidiary Instagram have removed a new video from the undercover reporting operatives Project Veritas under its "misinformation" policy.
"We encourage free expression, but we don't allow false information about COVID-19 that could contribute to physical harm," the Facebook message shared with Project Veritas read.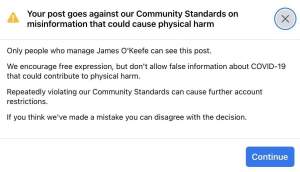 Facebook didn't specifically state which part of the video caused them to decide to delete it.