(Fox News) During presidential remarks on COVID-19 vaccines for children under 5 years old, President Joe Biden alarmed Twitter users when he spoke of the government preparing for a "second pandemic."
A reporter prompted Biden's head-turning remarks with a question on what spending the U.S. government is still prepared to do in order to manufacture and distribute more vaccines and maintain the infrastructure necessary to combat COVID-19 as it lingers throughout the country.
Last week, the CDC and FDA authorized emergency use of the COVID-19 vaccine for kids as young as 6 months old.
"I know you're looking for more money from Congress for this vaccine campaign and for COVID funding going into the fall," the reporter told Biden, before asking, "How much of the supply of vaccines for these small children is there and how many of the nation's kids will you be able to get vaccinated before you need more money from Congress?"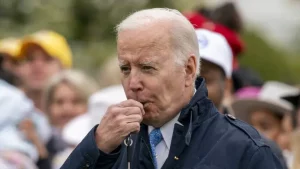 Biden responded, "We'll get through at least this year," before stating, "We do need more money. But we don't just need more money for vaccines for children eventually. We need more money to plan for the second pandemic."
Biden reinforced his revelation: "There's going to be another pandemic. We have to think ahead."
For good measure he slammed the Trump administration, and propped up his own, saying, "And that's not something the last outfit did very well. That's something we've been doing fairly well – that's why we need the money."
Though Twitter users were mystified and annoyed with Biden's warnings of "another pandemic."
"Right in time for 2024," tweeted Fox News contributor and New York Post writer Miranda Devine, insinuating another pandemic may interfere with the upcoming election.
Right in time for 2024 https://t.co/m3E3ig60cw

— Miranda Devine (@mirandadevine) June 22, 2022
Conservative commentator Ian Miles Cheong expressed confusion about Biden's statements, wondering, "Biden said he needed more money to deal with a second pandemic. What did he mean by this?"