(PJ Media) That poor excuse for a Stanford Law School Dean has disappeared from campus after she joined a National Lawyer's Guild-planned melee to silence a sitting judge who was at the campus to lecture students on the law.
Tirien Steinbach was called on to quell the nonsensical screech-fest meant to silence an invited guest, but instead joined the organized shout-down and berated the lecturer so students would be spared his non-Leftist judicial thoughts.
These "law" students obviously missed the lectures about the First Amendment or the heckler's veto. In fact, students are so ignorant of the First Amendment of the U.S. Constitution that the head of the law school ordered their mandatory re-education.
The students will not be punished for their dumb display, but Steinbach, the harridan who is paid to be a "Diversity Equity and Inclusion (DEI) Dean," was given an early spring break in the form of official "leave" from campus for helping to shout down U.S. Court of Appeals Fifth Circuit Judge Kyle Duncan. Duncan was on the law school campus to speak at a sanctioned Federalist Society event.
The letter, a legal treatise, announced that Steinbach was temporarily out and students would be undergoing free speech training.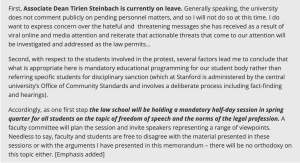 Steinbach was there to somehow soothe the hurt feelings of the adult law students. The individual videos of students shrieking at Judge Duncan largely have been scrubbed from Twitter. Lowlights in news stories remain. Instead of lowering the temperature of the shouting students, Steinbach made it worse by justifying the students' behavior.
At one point during the verbal assault on Duncan by people who want to be officers of the court when they grow up, he asked if this was meant to be a "struggle session" the likes of which is practiced by communist apparatchiks in China.
He explained in a Wall Street Journal op-ed that Steinbach's prepared remarks made things worse, not better. He didn't know who she was when she demanded the podium. Students screamed until he stepped to the side.