From Local21News.com….
An enormous alligator removed from private property in the Lowcountry Thursday revealed some intriguing finds when a wild game meat processor examined the contents of the animal's stomach.
The 12-foot-long, 445-pound alligator was killed at the behest of a landowner along the Edisto River, which forms part of the alligator-laden ACE Basin estuary in Beaufort, Colleton and Charleston counties.
Afterward, the immense 'gator was brought to Cordray's, a meat market outside Ravenel that also butchers and processes both livestock and wild game.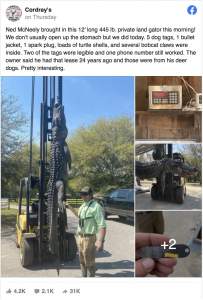 In a viral Facebook post, Cordray's staff said they don't usually check the stomachs of alligators brought into their shop, but decided to make an exception for this exceptionally large animal.