From ReclaimTheNet.org….
News about the two nights of violence that erupted in Minnesota following the police shooting of Daunte Wright has been almost totally purged from the Google Search news tab results for the term "riots today."
With the exception of a single news story from Fox News, which is buried below the fold four results down, the results are dominated by news stories about the less relevant January 6 storming of the US Capitol and riots in Montreal following COVID-19 curfews.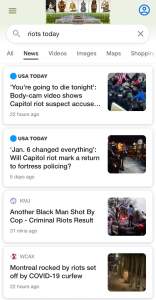 Numerous news outlets that are often featured in the Google Search news tab results for other stories have provided regular updates on the unrest and used the keyword "riots" in the headlines of their news stories.