From FoxNews.com…
President Biden said that the country is going through an "incredible transition" away from fossil fuels via the high gas prices being experienced nationwide.
Biden made the statement on gas prices during a joint press conference with Japan Prime Minister Fumio Kishida on Monday.
"Here's the situation.  And when it comes to the gas prices, we're going through an incredible transition that is taking place that, God willing, when it's over, we'll be stronger and the world will be stronger and less reliant on fossil fuels when this is over," Biden said, seeming to justify or praise those sky-high prices Americans face at the pump.
Biden's comments come amid a stretch of record-high gas prices which the American Automobile Association says is "unprecedented."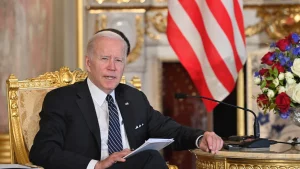 The national average for a gallon of regular gas stands at $4.56 as of Monday, which is more than $.40 higher than it was just a month ago.
In parts of the country such as California, however, the average price for a gallon of regular gas reached $6.06 on Monday.
Biden added during the press conference on Monday that his administration has taken steps to prevent the price at the pump from going even higher, such as the release of 1 million barrels of oil from the U.S. Strategic Petroleum reserve.
"And what I've been able to do to keep it from getting even worse — and it's bad.  The price of gas at the pump is something that I told you — you heard me say before — it would be a matter of great discussion at my kitchen table when I was a kid growing up.  It's affecting a lot of families," Biden said.