(Gateway Pundit) The Marble Freedom Trust, a conservative nonprofit group, was given a $1.6 billion dollar donation from Barre Seid. Seid is an electronics manufacturing mogul.
The Marble Freedom Trust is controlled by Leonard A. Leo, a lawyer and activist who helped with the Supreme Court nominations of Clarence Thomas, Brett Kavanaugh and Amy Coney Barrett.
According to Huffington Post The Marble Freedom Trust is an influential force in Washington that has worked to transform the nation's judiciary. Leo has been instrumental in the fight to overturn Americans' access to abortion and limit voting rights across the nation.
Leo said in a statement that "it's high time for the conservative movement to be among the ranks of George Soros, Hansjörg Wyss, Arabella Advisors, and other left-wing philanthropists, going toe-to-toe in the fight to defend our Constitution and its ideals."
This is one of the largest donations ever given to a politically-focused nonprofit.
The $1.6 billion obtained by the group is more than 15 of the most politically-active nonprofit organizations spent in 2020.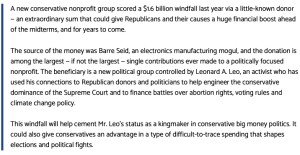 Robert Maguire, the research director of the leftist Citizens for Responsibility and Ethics in Washington explained the impact this money will have on issues across the country.