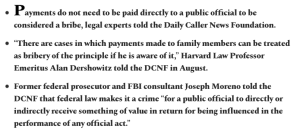 (Daily Caller) President Joe Biden could be found guilty of accepting a bribe based on payments given to family members, legal experts told the Daily Caller News Foundation.
Democrats have largely objected to Republican's investigation into Hunter Biden, as well as the newly-launched impeachment inquiry into President Joe Biden, on the basis that the president received no direct payments or benefit from his son's business dealings and alleged influence peddling. Legal experts said this is misguided, noting foreign payments Hunter Biden received could implicate his father if a clear link were to be established.
"There are cases in which payments made to family members can be treated as bribery of the principle if he is aware of it," Harvard Law Professor Emeritus Alan Dershowitz told the DCNF in August. When the House Oversight Committee released its third bank records memo in August on payments Hunter Biden received from foreign sources, Republicans argued payments need not be made "directly to the president to show corruption" because "the law recognizes payments to family members to corruptly influence others can constitute a bribe."
The memo identified over $20 million in foreign payments to the Biden family and associates, including payments Hunter Biden received from Russian oligarch Elena Baturina, Ukrainian energy firm Burisma and Kazakh oligarch Kenes Rakishev, while Joe Biden was vice president. In response, White House spokesperson Ian Sams said the memo "doesn't show anything about President Biden."
Former federal prosecutor and FBI consultant Joseph Moreno told the DCNF that federal law makes it a crime "for a public official to directly or indirectly receive something of value in return for being influenced in the performance of any official act." "So in establishing whether there was a quid pro quo, prosecutors would have to prove that something was demanded or received by a public official (including the President) in exchange for some official act (i.e., approving foreign aid, putting pressure on a foreign official)," he explained. "This can be done via a direct payment or gift to a public official, or an indirect one through, say, a family member or business associate."
A payment accepted through a family member could also be relevant in an impeachment trial, where the standard leading to removing a president is easier to meet and does not "require a statutory violation," he said. "Impeachment by the House (Art. I, Section 2) and trial by the Senate is for when a President commits 'high Crimes and Misdemeanors,' which is not a term defined in the Constitution but has largely been considered to be whatever Congress deems to be," he said. "So if Congress wants to impeach and try President Biden for benefitting from improper payments received through his son or other family members, it is free to do so."
.@Jim_Jordan: "Can a benefit to your family be a benefit to you?"@JonathanTurley: "This idea that you can have millions going to a politician's family, and that's NOT a benefit, I think is pretty fallacious." pic.twitter.com/C0YtIhHItx

— Daily Caller (@DailyCaller) September 28, 2023
Hunter Biden's former business associate Devon Archer testified to the House Oversight Committee in July that the value of adding Hunter to Ukrainian energy company Burisma's board was "the brand." Additionally, he testified that Joe Biden spoke with his son's business associates on more than 20 occasions. New documents released by the House Ways and Means Committee Wednesday showthat Hunter referred to the Biden "brand" as his family's "only asset" in a message to his uncle, James Biden.
The DOJ convicted the two sons of the ex-Panamanian President Ricardo Martinelli in 2022 based on facts similar to those in Hunter Biden's case, the Heritage Foundation Oversight Project noted in a tweet Thursday. The brothers used shell companies to receive a $28 million bribe for a relative, $19 million of which was transferred through U.S. banks, according to the DOJ.