(DailyWire) Less than four months into the job, Vice President Kamala Harris' director of speechwriting is reportedly jumping ship — the same day that one of Harris' closest aides departed her office.
Two people familiar with the matter reportedly told POLITICO that Meghan Groob, the vice president's director of speech writing, will be departing from her role. She was first hired in April, according to the publication, and previously worked for Bill Gates as a speechwriter.
Her departure comes as Harris repeatedly takes heat for repetitive or evasive public remarks, dubbed by some critics as "word salad."
The Washington Post also reported Friday that Rohini Kosoglu, one of Harris' closest and longest-serving aides, is also departing her office.
Kosoglu, who formerly served as Harris' chief of staff in the senate as well as on Harris' presidential campaign, dismissed the idea that she was departing due to staff instability and said she wanted to spend more time with her family.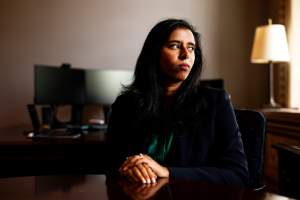 "It's been six years, and she understands that my family's very much looking forward to this time, and that I will always be here should she need any trusted information or counsel," Kosoglu told WaPo of Harris. "Even through this time period, she's been an invaluable source of support and guidance to me to come to this decision."
At least 13 staffers have left Harris since summer 2021: the vice president's chief of staff Tina Flournoy, national security advisor Nancy McEldowney, and deputy chief of staff Michael Fuchs all left the administration this spring after several of Harris' top aides departed last year (including chief spokeswoman Symone Sanders), WaPo reported.