(New York Post) Near the end of an especially tumultuous week in his tumultuous presidency, Joe Biden gave his first media interview in four months to someone who wasn't a late-night comedian. For a public hungering for answers, it wasn't worth the wait.
The president chose The Associated Press and the sit-down lasted a little less than 30 minutes, but that was more than enough time for him to demonstrate again he's got no new ideas or even a new way of packaging old ideas.
Biden acknowledges America is in a funk, but shows no sense of compassion or determination to turn the tide.
Asked about the public mood, the president said, "People are really, really down."
(Down, as Biden himself was after falling off his bike Saturday, an apt symbol of his presidency!)
Later in the interview, he gave this advice: "Be confident. Be confident. Because I am confident. We are better positioned than any country in the world to own the second quarter of the 21st century."
That's supposed to be inspiring? Technically, the century's second quarter will begin in 2026, so Americans should just grin and bear it until then?
Bad policies cause trouble, but they are compounded infinitely when a president is so impervious he doesn't feel the need to change them, or simply isn't capable of rousing himself to make changes.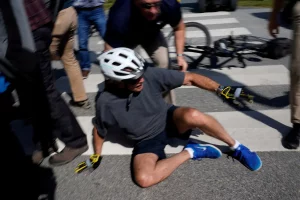 Of the many crises America faces, the most serious one sits in the Oval Office.
We have a president who doesn't even pretend to be working night and day to beat back inflation, save the economy from a recession or tackle rampant crime and growing political violence. He looks to be on automatic pilot when the nation desperately needs strong leadership.
Going, going, gone
The interview took place on the day the stock market cratered to new lows amid a growing belief a recession is about to rock the economy and wipe away jobs, savings and dreams. Trillions of dollars in wealth have vanished, and the White House is silent.
Even Democrats are jumping off the Biden ship as more and more say publicly they don't want him to seek re-election in 2024. They wouldn't be saying that if they thought he was doing a passable job now.
Yet the morning after the interview, Biden displayed his version of Alfred E. Neuman's "What, me worry?" attitude and left the White House for another
four-day trip home
to Delaware. As he stopped to answer a question from reporters about gas prices, which had just hit a record national average of $5 a gallon, First Lady Jill Biden cut him off, saying, "We gotta go!" and off they went.
Through May, the president spent 188 full or partial days away from the White House, according to the Washington Examiner, which said he was on a pace to spend 553 days away over a full term.
That would be the most of any modern president, with former President Donald Trump coming in a distant second at 381 days.