(Townhall) Julio has been covering the tragedy in Nashville, Tennessee. Six people, three children, and three adult staffers, were shot and killed at the Covenant School, a private Christian learning institution.
Anti-gun activists hijacked a press conference on the incident earlier today. The Biden White House will probably push the usual talking points about banning so-called assault weapons, which will be echoed by their allies on the gun control issue.
Unlike the shootings at Michigan State University and East High School in Denver, Colorado, this perpetrator had a handgun and two AR-15-style rifles. You can already hear the anti-gun Left licking their lips—now they had a chance to score some points. Except they can't, Audrey Hale was identified as the shooter, and this person was transgender. Hale was shot and killed by police during the assault.
Nashville Police Chief confirms the suspect in today's shooting at a Christian elementary school identified as a transgender: pic.twitter.com/TMF4lnxYlM

— Julio Rosas (@Julio_Rosas11) March 27, 2023
Audrey Hale, the 28-year-old who fatally shot 3 children and 3 adults at Covenant School in Nashville, entered by shooting through a door and had "maps drawn of the school in detail" including "surveillance, entry points, etc.," Police Chief John Drake said. @livenowfox pic.twitter.com/ULXWBb1Q9z

— Josh Breslow (@JoshBreslowTV) March 27, 2023
And the killer targeted a Christian school and a church.

Hate crime? https://t.co/X70APheaU8

— Dana Loesch (@DLoesch) March 27, 2023
As Julio wrote, there is a manifesto and maps of potential targets. This shooter planned this attack, and given the setting; a hate crime cannot be ruled out. The lingering question will remain unresolved since a transgender mass shooter is one story the media will avoid like the plague. Authorities said they have a working theory on a motive but are unwilling to disclose it at this time (via NBC News):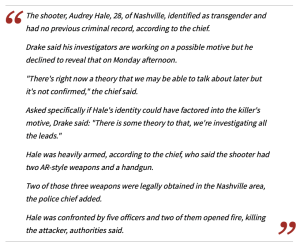 BREAKING: The deceased mass shooter of the Christian school in #Nashville has been identified as #trans person Audrey E. Hale. Three children & three staff were murdered. The shooting comes amid a surge in far-left death threats in Tennessee over the state https://t.co/gHQ6S0YSYd… pic.twitter.com/RbJyFe5xM9

— Andy Ngô 🏳️‍🌈 (@MrAndyNgo) March 27, 2023
Nashville school shooter Audrey Hale identified as transgender and had detailed manifesto to attack Christian academy https://t.co/Pe3901jc0J pic.twitter.com/v2MlKGnGQf

— New York Post (@nypost) March 27, 2023
Probably just a random coincidence https://t.co/IcSV7EfJzj

— Tom Elliott (@tomselliott) March 27, 2023
Tennessee Bureau of Investigation Director David Rausch: We're sending our heartfelt prayers to the families, to this community of these victims. Now I know there will be people who want to criticize us for prayers, but that's the way we do that in the south. We believe in prayer pic.twitter.com/39yfEv1mwJ

— Julio Rosas (@Julio_Rosas11) March 27, 2023