(Daily Mail) TJ Maxx has become the latest company to sever ties with Kanye West in the wake of his vile anti-Semitic outbursts as his huge fortune continues to take hit after hit.
The retailer follows Gap and Foot Locker in no longer stocking any Yeezy merchandise in its stores.
The department chain, whose CEO is Ernie Herrman, said in a statement to CNNBusiness: 'At TJX we do not tolerate discrimination, harassment, or hate of any kind.
'We have instructed our buying teams not to purchase this merchandise for sale in any of our stores globally.'
There have been calls for Spotify to drop his music which they have so far resisted, but Apple Music made the first move today by removing his Essential Playlists on their streaming platform.
His music is still on the platform but his bio and Essentials Playlist have disappeared for users. Apple have not yet commented on the move.
The artist's school Donda Academy in Southern California has also been closed with immediate effect, parents have been told.
TJ Maxx has become the latest company to sever ties with Kanye West in the wake of his vile anti-Semitic outbursts (pictured yesterday at a bagel shop in Los Angeles before arriving at the Skechers HQ) 
He was seen near a parking lot before he was escorted out of Sketchers HQ
TJ Maxx, whose CEO is Ernie Herrman (pictured in 2014) follows Gap and Foot Locker in no longer stocking any Yeezy merchandise in its stores
The principal of Donda Academy, Jason Angell, said in an email seen by The Times: 'At the discretion of our Founder, Donda Academy will close for the remainder of the 2022-2023 school year effective immediately.'
The $15,000-a-year school named after West's mother is shrouded in secrecy with parents forced to sign NDAs and pupils following a faith-based curriculum while in Balenciaga uniforms.
Yesterday, the rapper was embarrassingly escorted out of Skechers headquarters after showing up unannounced to pitch his Yeezy brand a day after being dropped by Adidas and having his songs banned by Peloton.
Ye was taken out by two 'executives' according to a statement released by the company Wednesday afternoon.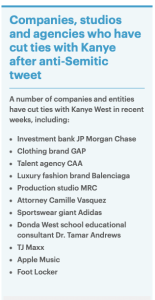 Skechers representatives said in a statement: 'Considering Ye was engaged in unauthorized filming, two Skechers executives escorted him and his party from the building after a brief conversation. Skechers is not considering and has no intention of working with West.
'We condemn his recent divisive remarks and do not tolerate antisemitism or any other form of hate speech. The Company would like to again stress that West showed up unannounced and uninvited to Skechers corporate offices.'
West may have faced additional opposition if he had gotten a preapproved sit-down meeting with Skechers executives as the CEO Robert Greenberg and current President Michael Greenberg are both Jewish.
The rapper's removal from the shoe brand's office comes mere hours after Adidas announced that it will continue to sell Yeezy products while removing the rapper's moniker.
Management said that they will sell the items under their own brand at the beginning of 2023, according to analysts.
It was feared that stores selling off-price designer goods such as TJ Maxx would receive all the unwanted Yeezy merchandise that other retailers have shunned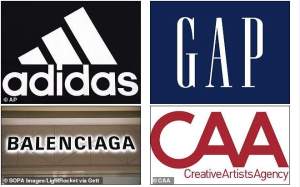 A host of high profile brands have dropped Ye in recent days and weeks amid ongoing controversy over his social media posts and rants
Adidas broke off their deal with Ye Tuesday after pressure from fans over the rapper and designer's recent antisemitic comments.
It ended a partnership estimated to be worth more than $1.5billion in total, including royalty payments and other fees.
'I can say antisemitic things and Adidas can't drop me,' Ye had previously stated.
Since other similar remarks across social media, including a tweet declaring he would go 'death con 3 On JEWISH PEOPLE,' Ye has lost a string of lucrative, high profile partnerships.
Footwear retailer Foot Locker said yesterday they would 'not be supporting any future Yeezy product drops, and we have instructed our retail operators to pull any existing product from our shelves and digital sites.'
Even auction house Christie's which was handling the private sale of a rare Nike Air Yeezy 1 prototype worn by West to the 2008 Grammy's is no longer proceeding with the sale.
The termination of the Adidas deal has knocked Ye out of the billionaire ranks, according to wealth tracker Forbes.
Ye is now worth a comparatively paltry sum of $400 million, which Forbes estimates comes from real estate, cash, his music catalog and a 5 per cent stake in ex-wife Kim Kardashian's shapewear firm, Skims.
But as corporations around the world break off deals with Ye, music streaming service Spotify said it would not remove the rapper's music unless his label requested it.
Recent anti-Semitic remarks made by the rapper are 'just awful comments,' and would have warranted removal from Spotify for violating its policies if they had been on a podcast or recording, Spotify chief Daniel Ek said.
However, music from the artist now known as Ye does not violate anti-hate policies, and any anti-Semitic comments he has made cannot be found on the music streaming platform.
'It's really just his music, and his music doesn't violate our policy,' said Ek, adding, 'It's up to his label, if they want to take action or not.'
Universal Music's Def Jam label, which owns the copyright to West's recordings from 2002 through 2016, and continued distributing his releases until last year, issued a statement condemning Ye's remarks, saying: 'There is no place for antisemitism in our society'. But the label has not asked for the removal of Ye's recordings, many of which are critically acclaimed works.