(Breitbart) Lightyear, the latest piece of child grooming media from the predators at the Walt Disney Co., is looking like a box office catastrophe, which is only a surprise to those who don't live in the real world.
Gee, what do you think will happen when you add some high-profile homosexuality to a kiddie movie?
I'll tell you what happens… The latest chapter of the most iconic and beloved animated franchise of all time not only crash lands with a pathetic $51 to $55 million opening, it comes in second place behind the second weekend of Jurassic World Dominion.
Good job, Disney. Well done.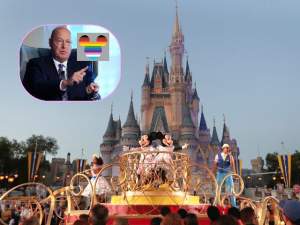 Allow me to caveat that these numbers could still change, but over at the far-left Deadline — along with all kinds of excuses that conspicuously avoid the woke propaganda in Lightyear — they are already calling it a disaster: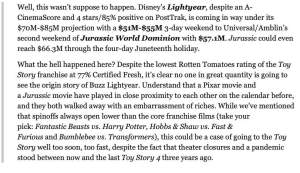 "Going to the well too soon," lol.
Marvel releases two and three movies a year. You mean like that going to the well too soon?
The Lord of the Rings and Hobbit came out every year. You mean like that going to the well too soon?
The two Sonic the Hedgehog movies came out two years apart (2020, 2022) and the second one opened higher than the first ($58 million versus $72 million). You mean like that going to the well too soon?
Oh, and both of those Sonic openings beat Lightyear's opening.
Then Deadline blames the critical reaction, even though Lightyear has an 80 percent fresh score at Rotten Tomatoes and Jurassic World Dominion is below 40 percent.
Then Deadline blames the inflationary economy, even though in the past three weeks we've seen both Top Gun and Jurassic World Dominion perform at or way above expectations.