From NYpost.com…
The results are jaw-dropping.
Gen Z 20-somethings are taking to TikTok to boast their procedures of having fat sucked, sliced and sculpted to chisel their ideal jawlines.
The TikTok hashtag #chinlipo has nearly 60 million views as of Monday morning, with other young content creators ditching their double chins for good.
Popular content creator Audrey Peters said she removed "over an inch of fat" from her chin with the help of Airsculpt, a liposuction technology that is a minimally invasive, quick procedure and uses air to remove fat. While Peters said the innovative fat removal technology starts at $4,000, face-slimming methods cost anywhere from $500 for nonsurgical procedures to $5,000 for surgical operations.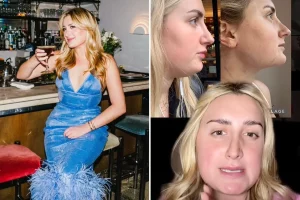 "The reason I did it is partially because it was something I was always insecure about and I always wanted to fix," Peters, 25, told The Post. "It was something that always bothered me, I hate the way they looked in photos with or without my job being on camera."
Board-certified plastic surgeon Dr. Norman Rowe told The Post he saw an uptick in face-slimming procedures at the beginning of the pandemic when people's faces were all anyone saw on Zoom meetings — but the trend is still going strong as people re-enter society.
"Even though we are slowly moving into a post-pandemic world, I am still seeing this trend being carried over with in-person meetings [and] events becoming more common again," he said.