From ReclaimTheNet.org…
More evidence is emerging of Google manipulating algorithms powering its mammoth and highly influential search service to give certain results (much) more visibility than others.
And now, reports say, Google is not even trying to hide that this is the case, as America's Frontline Doctors (AFLDS) has been informed its reach on the internet is being artificially limited.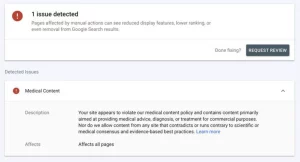 This organization says it is dedicated to improving doctor-patient relationships that are jeopardized by what it calls politicized science and biased information. The AFLDS would also like to provide patients with access to "independent, evidence-based information" that will inform people's decisions regarding their healthcare choices.