From NotTheBee.com…
If "democracy dies in darkness," then I guess journalism dies in broad daylight.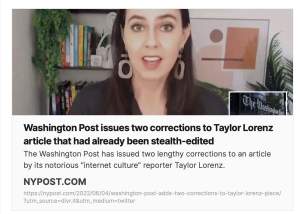 It all started with perma-victim Taylor Lorenz contributing yet another article in the "the real winner of the Depp-Heard trial was…" category, this one even more vapid than most.
Analysis: Who won the Depp-Heard trial? Content creators that went all-in, writes Taylor Lorenz. https://t.co/H8Wc0lAOKJ

— The Washington Post (@washingtonpost) June 3, 2022
"Analysis."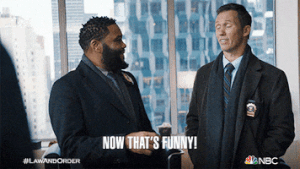 This was a sloppy piece. Yes, everyone makes mistakes, but this was much more. It was a preconceived narrative for which Lorenz manufactured and twisted facts and didn't care who was smeared in the process.
Please read this thread and then remember that a) this behavior is very common for corporate media: they just don't usually get caught and, more importantly, b) these are the people who say the internet must be censored to protect you from disinformation:https://t.co/vLRwiyqGjf

— Glenn Greenwald (@ggreenwald) June 4, 2022
I read the piece in question and its central theme is that the Internet exists and people write about stuff on it and occasionally make money doing so.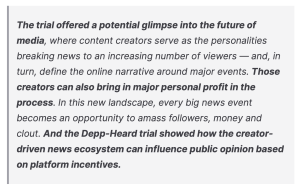 Wow. I don't know what to say. Welcome to the Internet? Glad you could join us? Need any pointers on what a hyperlink is?
And you have to love when well-paid major-media writers call out other people for making a living covering the news. Maybe she's jealous. Writing about things that actually happened has to be way easier than having to make it all up from scratch.