From FoxBusiness.com….
President Joe Biden's dog Major is going to receive extra behavioral training and it doesn't come cheap.
News of the 3-year-old German shepherd's schooling comes from Press Secretary Michael LaRosa, who works under first lady Jill Biden.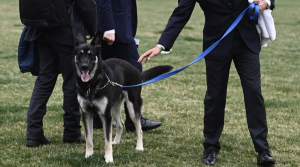 "Major, the Bidens' younger dog, will undergo some additional training to help him adjust to life in the White House," LaRosa told FOX Business. "The off-site, private training will take place in the Washington, D.C. area, and it is expected to last a few weeks."
At most pet store chains, dog training programs can cost hundreds of dollars for just a few sessions.