From Express.co.uk….
Kremlin defence chiefs are testing their latest weapons in waters that until recently were frozen over as Russia attempts to secure its northern coast and open up a key shipping route from Asia to Europe. The powerful Poseidon 2M39 torpedo, nicknamed the "Doomsday Nuke" because of its terrifying capabilities, is among the new arsenal undergoing tests in the northern oceans.
Weapons experts and Western officials have expressed particular concern about the "super-weapon" and Washington said it was watching "very closely" after satellite images revealed the expansion of military bases, including an underground facility that could be used to house the Poseidon 2M39 torpedo.
The unmanned stealth torpedo is powered by a nuclear reactor and intended by Russian designers to sneak past coastal defences on the seabed.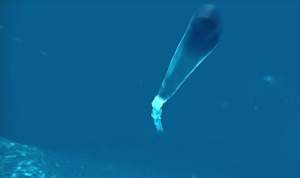 Russian defence officials said the device could deliver a multiple megatons warhead which would spark radioactive waves rendering vast areas of the target coastline uninhabitable for decades.