The CDC acknowledged that it has no record of any unvaccinated person spreading Covid-19 after previously recovering from the disease, making the case that natural immunity is much stronger than vaccines.
The CDC's chief FOIA officer Roger Andoh had responded to a request from Siri & Glimstad attorney Elizabeth Brehm regarding information on the number of unvaccinated persons who have recovered from Covid-19 only to have been reinfected and spread the virus to others.
Lawyers smelling blood in the water. pic.twitter.com/ajdOuiIyjj

— Michael P Senger (@MichaelPSenger) November 12, 2021
Brehm's request, which she submitted on Sept. 2, 2021, sought CDC records regarding:
"Documents reflecting any documented case of an individual who: (1) never received a COVID-19 vaccine; (2) was infected with COVID-19 once, recovered, and then later became infected again; and (3) transmitted SARS-CoV-2 to another person when reinfected."
Andoh, indicated the following in his response:
"A search of our records failed to reveal any documents pertaining to your request. The CDC Emergency Operations Center (EOC) conveyed that this information is not collected."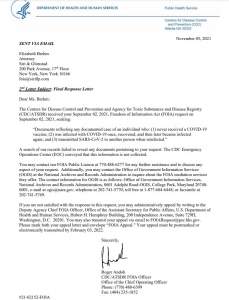 The government has refused to acknowledge natural immunity in those that have previously been infected by the Covid-19 virus and this information, or lack thereof, could provide a strong legal argument for lawyers who have sued the government over vaccine mandates on behalf of their clients.
The Siri & Glimstad law firm says it has helped "hundreds of individuals" obtain vaccine exemptions and avoid employer mandates, and is currently fighting many others in court.