(Gateway Pundit) January 6 political prisoner Jacob Chansley, a.k.a. the "QAnon Shaman," is finally a free man!
The Gateway Pundit recently reported that Jake was released from prison to a halfway house and was spotted at a halfway house following his prison release.
Chansley's mother, Martha Chansley, told TGP's Jordan Conradson in an interview before his release that she was expecting her son to be released from prison soon.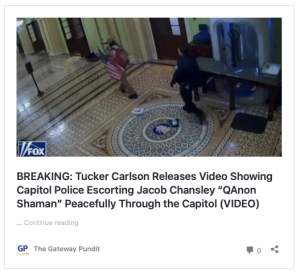 However, Jake is standing strong with the Christ-like spirit of forgiveness. In a new monologue released this morning, Jacob Chansley forgives his captors, the United States government. "I pray for them because that is what Christ would do," said Jake. He further assures the world that "the truth of global corruption is simply becoming more obvious."
Jake Tweeted,

This is Jacob Angeli-Chansley. This is my offical twitter page & my first official statement upon my release from Federal BOP custody. The time is 9:07 AM on the 25th of May 2023. FREEDOM!!! https://t.co/UStVdYMdbu

— Jake Angeli-Chansley (@americashaman) May 25, 2023