From DailyMail.co.uk…
In a heartbreaking final interview just months before his death, comedian Bob Sagetrevealed how he had come to accept mortality after so many of his family members had died.
Saget, who died of brain trauma on January 9, 2022 at a hotel room in Orlando, Florida – where he was on the last leg of a stand-up tour – told Radio Rahim last year how so many of his aunts, uncles and cousins died almost every two years as he grew up.
'We had so many deaths growing up, that my dad would just instill [the notion of enjoying life] in me,' Saget said. 'He didn't teach it to me, I just saw how he reacted.'
He explained that his father had to bury four brothers and one sister over the course of Saget's life, and at the age of 65, he has finally come to accept the finality of one's life.
'I'm proud of myself because I'm onto a new thing. At 65, I'm different than I was,' Saget told Rahim.
'I just don't have the same way of doing humor or conversation,' he continued. 'I guess therapy, having three kids, watching people pass away in the past few years, mortality, all that stuff has fortunately changed me.
'My kids tell me, "Dad, you're different. It's so nice to watch you grow."'
The interview with Radio Rahim's Til This Day podcast was originally recorded on May 29, 2021, and on Monday, the first part was finally made public, with Rahim noting that Saget 'drew me into a conversation when I had every intention of performing an interview.
'He had that way about him – he could throw everything you intended to do out the window simply by reminding you to stay in the moment.
'So out of respect for our friend, Bob, that's what we're gonna do. We're gonna stay in the moment because if we're here with him, he's still here with us.'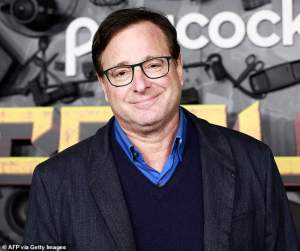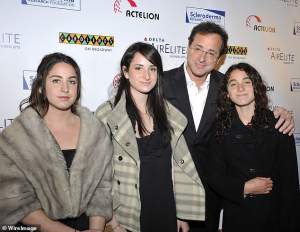 In the interview, Saget spoke about how he lost aunts, uncles, cousins and sisters almost every two years when he was growing up in the 1960s and 1970s.
'[The deaths] started when I was like seven, and then every two years somebody died,' he said. '[I had] a cousin die – she died at 23 of cancer after giving birth to her child – and then a lot of cousins went through a lot of hardships, so I was like 9,10, 11, 12, 14' when they all passed, he said. 'It was a lot.'
He was able to cope, he said, by making movies with an 8millimeter camera with his friends, explaining: 'There's so much pain, and my parents couldn't deal with it.
'And every time they finally started to regroup, something else terrible happened.'
By the time Saget's father was 85, he had to bury his last sibling – who was able to make it to the age of about 78 after the other four died young of heart attacks.
At that point, Saget said he had already become successful and was able to fly his father to Philadelphia for the funeral, where he helped his father edit his eulogy at 3.30am.
That speech, Saget said, encouraged him to see life and mortality differently.
'He gave the best speech,' Saget said of his father. 'And his ending was something like "I'll see you in 30 years, Joe."
'And it's so good to close with something sweet that makes people feel the love.'