From NYpost.com…
Johnny Depp won all three counts of his bombshell defamation lawsuit against Amber Heard on Wednesday after a Virginia jury substantiated the claim that his ex-wife sullied his reputation and damaged his career when she wrote about becoming a "public figure representing domestic abuse" following the couple's split.
After some 13 hours of deliberations, the panel of seven in Fairfax awarded the "Pirates of the Caribbean" star $10 million in compensatory damages and $5 million in punitive damages.
However, because Virginia law caps punitive damages at $350,000, the actor was actually awarded a total $10.35 million.
As the verdict was read, Heard looked somber and looked down, wearing a black dress and a gold necklace.
"The disappointment I feel today is beyond words. I'm heartbroken that the mountain of evidence still was not enough to stand up to the disproportionate power, influence, and sway of my ex-husband," she said in a statement after the verdict.
Depp, 58, had sued Heard for $50 million over her 2018 Washington Post essay in which she wrote about facing "our culture's wrath" for speaking out against a powerful man — a warning that seemingly became more prescient with the jury's decision.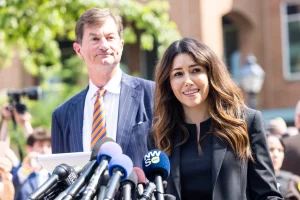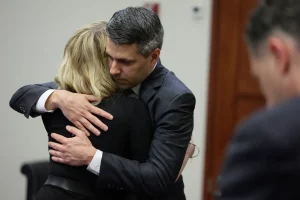 In her statement, Heard called the verdict a "setback" for other women, saying: "It sets back the clock to a time when a woman who spoke up and spoke out could be publicly shamed and humiliated. It sets back the idea that violence against women is to be taken seriously."