(The Covid Blog)  The 46-year-old Jeopardy! host, author, podcaster, self-proclaimed feminist and "staunch Zionist" is still recovering from illness despite succumbing to coercion and taking the Holy Serum.
It took a few minutes for this blogger to figure out why Ms. Mayim Bialik had such a familiar-looking face. She posted via Facebook a series of photos on March 12, 2021, including the following one.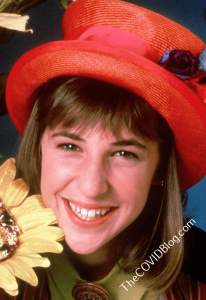 Ms. Bialik played Blossom in the eponymous television sitcom that ran from 1991 to 1995. She apparently wasn't stung by the child actor bug, and continued in the profession after the series ended. Ms. Bialik was a voice actress for the rest of the 1990s and early 2000s. She went back to UCLA in 2005 and earned a PhD in neuroscience two years later. Ms. Bialik started a recurring role on CBS sitcom The Big Bang Theory in Season 3 (2010), before becoming a regular cast member the following year. She remained on the show until it ended in 2019.
Ms. Bialik wrote and directed the 2022 film "As They Made Us," starring Dustin Hoffman and Candice Bergen. She started a podcast with boyfriend Jonathan Cohen called Mayim Bialik Breakdown at the beginning of 2021. Ms. Bialik has also written four books. But it's her first book from 2012, entitled Beyond the Sling: A Real-Life Guide to Raising Confident, Loving Children the Attachment Parenting Way, that brings us to where we are today.
Bialik accused of being an "anti-vaxxer"
Ms. Bialik was named a permanent host on Jeopardy! in August 2021. But a few things she wrote in the aforementioned book and said in some previous interviews almost cost her the opportunity. Ms. Bialik told People magazine in 2009, "we are a non-vaccinating family…obviously there's a lot of controversy about it." Note that Ms. Bialik was married and had two sons, who were both under age 3 at the time. She divorced in 2013.
Ms. Bialik wrote an article on Jewish parenting website Kveller.com in May 2012. "Children today get about four times as many vaccines as the average 35-year-old did when we were kids," she wrote. Ms. Bialik then implied that kids still get the diseases that the vaccines are supposed to prevent. Her 2012 book has many more tidbits.
"Now, do I think we give way too many vaccines in the country compared to when I was a child? Yes," she wrote. Ms. Bialik continued, "I generally believe the flu is manageable." She said her sons had never had flu shots up to that point (2012). It apparently dawned on Ms. Bialik sometime in 2015 that she works in Hollywood. It is an unspoken rule in Hollywood that all workers (actors) not only be "vaccinated," but promote and encourage vaccines for all. Ms. Bialik knew her opportunities would be limited or eliminated completely unless she executed an aggressive damage control campaign.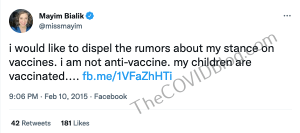 But that was not enough. She was obviously eyeing the Jeopardy! job as former host Alex Trebek had endured deadly chemotherapy to treat pancreatic cancer in 2019. Mr. Trebek passed away on November 8, 2020. Five weeks prior, on October 1, 2020, Ms. Bialik posted a nine-minute video on YouTube, explaining how she is not an anti-vaxxer.
She told her one million-plus followers that she will receive the mRNA injections as soon as they are available. Ms. Bialik also said that she and her two sons will get flu shots in late 2020. Still, she admitted that her sons didn't receive every childhood vaccine recommended by the CDC. Watch the full video below.