From MiamiHerald.com….
A majority of Black students in Miami-Dade County Public Schools are failing state tests in English Language Arts, math and science, despite graduation rates topping 85 percent.
Some School Board members on Wednesday were stunned to learn the stark reality of the district's achievement gap from a sobering presentation given by administrators in the district's Office of Academics and Transformation.
The achievement gap is defined as the disparity in academic performance between groups of students. The presentation stemmed from a February proposal to address the matter by School Board Vice Chair Steve Gallon.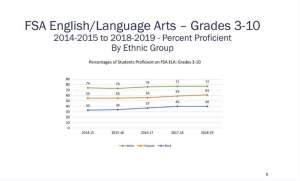 The presentation showed multiple charts and data points over time, measuring the period from the 2014-15 school year to 2018-19, the last school year students took the Florida Standards Assessments, the state-mandated standardized test. Students did not take the state tests last year due to the COVID pandemic.